One of my very first and most lasting cinematic crushes has sadly made her transition. Actress Vonetta McGee, who appeared in such films as "Melinda," "Blacula," "Hammer","Shaft in Africa," and the Clint Eastwood thriller "The Eiger Sanction" died last Friday, on July 9th, in Berkeley, Calif.
She was 65 years old.
She was blessed with a remarkable presence, and it's hard to say what it was about her that initiated my boyhood crush. I just
liked
her, and she drew me into her silent spell, much like a rose draws you in with its singular fragrance. Even in an industry so thick with a populace of pretty people, she possessed one of those stunning faces and shimmering talents that stood out, and like some haunting hypnotist, she made you
remember
her. She was not only compelling and very beautiful, in a quiet, non-showy way, but she had loads of subtext written inside those glorious eyes of hers.
In "Blacula" (1972), Ms. McGee portrayed the love interest of Mamuwalde (William Marshall), an African prince who, after an ill-fated trip to Transylvania centuries earlier, re-emerges in modern Los Angeles as a member of the thirsty undead.
Reviewing the film in The New York Times, Roger Greenspun called Ms. McGee "just possibly the most beautiful woman currently acting in movies."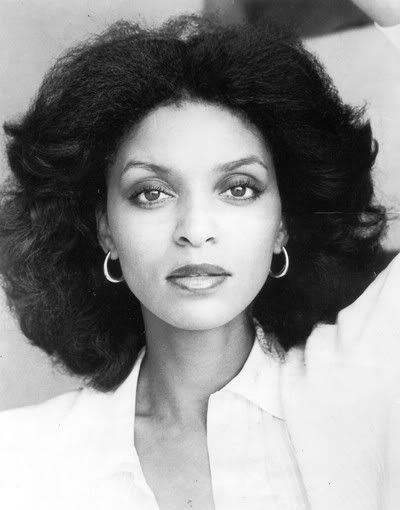 Personally, I liked that this critic didn't place her inside that marginal professional ghetto of some all-too-common yet limited racial context, like 'the most beautiful black woman', but instead, he rightly acknowledged her universal appeal.
In "Hammer" (1972), Ms. McGee appeared opposite Fred Williamson in the tale of a young black prizefighter. In "Shaft in Africa" (1973), the third installment in the private-eye series starring Richard Roundtree, she played an emir's daughter.
Ms. McGee's other films include "The Kremlin Letter" (1970); "Detroit 9000" (1973); "Thomasine & Bushrod" (1974); and "The Eiger Sanction" (1975), directed by and starring Clint Eastwood.
Lawrence Vonetta McGee, named for her father, was born in San Francisco on Jan. 14, 1945. While studying pre-law at San Francisco State College, she became involved in community theater. She left college before graduating to pursue an acting career.
Ms. McGee's first film work was in Italy, where her credits include the 1968 films "Faustina," in which she played the title role, and "Il Grande Silenzio" ("The Great Silence"). After seeing her Italian work, Sidney Poitier arranged for her to be cast in her first American film, "The Lost Man" (1969), in which he starred.
In later years she always maintained her beauty and quiet elegance. She would have recurring roles on several television shows, among them "Hell Town," "Bustin' Loose," "L.A. Law" and "Cagney & Lacey," on which she portrayed the wife of Detective Mark Petrie, played by Carl Lumbly. Ms. McGee and Mr. Lumbly were married in 1986.
Besides Mr. Lumbly, Ms. McGee is survived by their son, Brandon Lumbly; her mother, Alma McGee; three brothers, Donald, Richard and Ronald; and a sister, also named Alma McGee.
Though she was associated in public memory with the genre, Ms. McGee deplored the term "blaxploitation." It wasn't the "black" that troubled her — that was a source of pride. It was the "exploitation."
"She was constantly a person who preferred roles where women got to make choices," Ms. Nayo said on Friday. "Where women got to be strong."
* * * *
Rest in Peace, Lovely Sister. I shall always remember you with a
certain youthful smile
inside my heart.
One Love.
Lin