Recently I received an early Christmas gift and it's one that I'll cherish for many years to come. My boy "Brotha Life" (thanks Lifey!) Blessed me when sent me this gem. It's a large coffee table book filled with black and white classic & candid images of the Jazz greats. The book is called
JAZZ IMAGE, The Masters of Jazz Photography (by Lee Tanner)
. And trust me when I say, the photographers who contributed to this epic book didn't miss too many masters of the idom. To name but a few there's: Basie, Miller, Satchmo, and the king of all Sir Duke... there's Blakey and Dizzy and 'Trane and Bird, there's Miles and Ella, Billie and Sarah, Hamp and Roach, Brubeck and Krupa and Cootie and Nat Cole and mo.
I suddenly feel like I'm lost in my own
selfish bliss
. Awwwww... whatchu know about the Jazz language?
Anyway... best thing is that most of these photos are rare collector's items, and the faces of these people, these creative legends, they tell such real and vivid, lively and sad and mad compelling stories. For instance, there's a shot of Billie Holiday in the studio recording the classic "Strange Fruit." There's Ella singing scat on 52nd Street. There's Bird nodding off inside a mellow mood while holding his sax.
Each picture, each nuance speaks its own quiet poem. I'm sure this book will inspire riffs of crazy poetry from me.
I'm sharing one here. It was written (or maybe it was channeled) in about 10 minutes after staring at a photo of a smiling Louis Armstrong:
Satchmo's Grin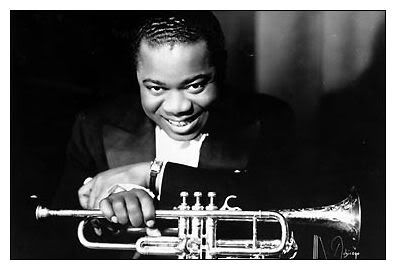 (A Poem To Old Skool Mindsets)
Tuxedo-clad, and glossy
As his horn…
I am diggin on that
Wide-ass grin of
A young
Louis Armstrong. I see that Genius
String of pearls strung across a mask
Of blackness as it unfurls… and
This mad hep
Jazz cat just
Makes you happy, doesn't he?
But was he really
That damn happy? Could anyone
Black in 1920s America
Possibly be that damn
Happy?
There are notes, some notes
That sing us, slowly… notes
That cry
So sharp
And so high, they define us
In our deepest quietude…
In his rendition of
St Louis Blues
I hear his pain
I feel his scream
I smell the Delta's
Summer steam…
Maybe he dreamed
Not in visions
But in sound…
Maybe that sweet
Racket of his
Horn warmed and
Transformed him.
Maybe. Maybe.
Maybe all that jazz and
Frequent weed-smoking
Tickled his ass into
Some semblance of
Makeshift Negro
Happiness.
Forget back door entrances
And exits thru the kitchens.
Forget fancy establishments
Where he's less than a
3rd class citizen!
Forget Jim Crow abuses… black
Bodies strung from nooses
Seen from the eyes of a
Boy with a coronet
Who can digest
And manifest
The definition of
The Blues…
But on stage
Satchmo blows
Satchmo smiles
Satchmo knows…
The secret to Negro joy…
Yet when someone
Outside his skin, screams,
"Play that Jazz, boy!"
Still, Satchmo grins…
His smile
Wider than The Nile.
His pomaded hair
Aglow, in slicked-back style…
His eyes, his eyes
Squinting back
Light and sweat or
Something resembling
Tears…
And tasting of
Regret.
There are notes, some notes
Which sing us slowly…
Notes that cry
That strut and fret
So sharp
And so high, they define us
In our deepest quietude…
I listen to the sound of
Louie Armstrong's
Smile… and I HEAR
The St. Louis
Blues.
One.
© 2011 by L.M.Ross moaningmanblues