When a poet dies, I get this sad and romantic notion that the pages they'd written upon have left their grasp and are flying on the wind.
Yesterday, Nick Ashford passed at age 69. He had been undergoing radiation for throat cancer. Today I find myself reflecting, not only upon the over four-decades worth of wonderful and memorable music he made with his wife Valerie Simpson, but I'm marveling at what a fine writer he was. It was he who wrote the words to their hits. It was his sensitive spirit that gave lyrical birth to such classic hit s as s, "Ain't No Mountain High Enough" and "Ain't Nothing Like the Real Thing," along with "You're All I Need To Get By," "Remember Me," "Somebody Told A Lie," "It Seems To Hang On," "No One Gets The Prize," and "Solid (As a Rock)".
There were dozens upon dozens of songs composed By Nick Ashford and Valerie Simpson. Some were great, some were unknown, but still gems in their own right.
My personal favorite was not considered a hit. It rarely received radio play, or the kind of kudos much of Nick and Val's tunes regularly amassed. It was a song about a loner's spirit. This was apparently who Nick Ashford was, according to his wife. He liked his alone time, and it allowed him to get in touch with the muse he needed to create. I could relate to this and thus, the song "Stay Free" seemed to speak directly to me. He and he and Valerie recorded it back in the late 70s, and I will conclude this entry with the lyrics from that brilliant piece of musical poetry.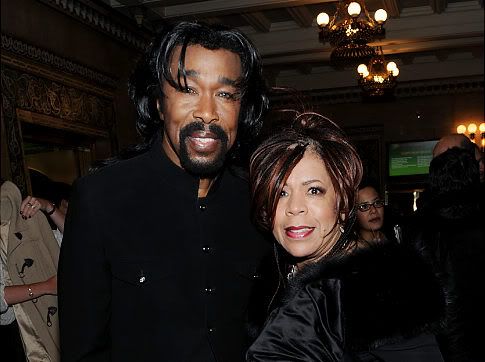 Together Ashford and Simpson, in addition to their musical careers as writers and later performers also owned several restaurant/clubs, including the 20/20 on W. 20th St. and the Sugar Bar on W. 72nd St in NYC.
They were a DJ team for several years on WRKS (98.7 FM), playing the kind of music they wrote and sang.
Ashford, a tall imposing man whose signature hair was long, was known as a gentle presence in the music business.
Nickolas Ashford was born in South Carolina and grew up in Michigan. He moved to New York in the early 1960s with $57 in his pocket, hoping to make it in show business. He was attending Harlem's White Rock Baptist Church when he met Valerie Simpson, a New Yorker who sang in the choir and also had musical ambitions.
They recorded together briefly and unsuccessfully in 1964 as "Valerie and Nick," but had more success with writing songs - which at first, said Ashford, they sold for $75 apiece.
Their first big hit was Ray Charles's "Let's Go Get Stoned," which hit the top 10 on the R&B charts in 1966, and soon after they signed to Motown.
Besides songwriting, they also produced most of Diana Ross's first three solo albums and worked with artists that included Teddy Pendergrass, Gladys Knight, Smokey Robinson and Chaka Khan.
Ashford did a few solo projects, including some unsuccessful singles and the very successful production of the 1968 Supremes/Temptations collaboration "I'm Gonna Make You Love Me."
Still, he and Simpson remained a team, and they got married in 1974. They had two daughters.
They had disco-era hits with "Send It" and "Street Corner" and wrote "I'm Every Woman," which Whitney Houston sang in "The Bodyguard."
Simpson, who did most of the composing while Ashford wrote most of the lyrics, later said it was "like pulling teeth" to get him to write "I'm Every Woman," but that it was worth the effort.
Ashford later had a few acting roles, including The Rev. Oates in "New Jack City."
His and Simpson's songs have been sampled in recent years by artists like 50 Cent. They received a writing credit for Amy Winehouse's 2007 "Tears Dry On Their Own" because so much of the melody was lifted from "Ain't No Mountain High Enough."
Ashford is survived by his wife and their two daughters.
The wonderful thing about music is that it never dies. Long after the writers, the singers and the players have been called home, we and the generations behind us will still be warmed by the gifts their music leaves behind.
Behold, One of Nick Ashford's gifts to the world…
Stay Free:

You like to watch the clouds drifting
'Cause you feel some kind of kindred
Won't tell nobody what you're into
Spend lots of time dreaming
All through the day
When love looks in your eyes you turn away

You like to stay free
That's what you told me
That's all in life you ever want to be
You like to stay free
Standing in my face you said to me
No one would ever fill the space
Stay free
Stay free

You like to sit high on a hill
Count the daisies in the field
It's your own way of playing solitaire
You won't answer no question
Or say where you've been
The last thing you think you need is a friend

You like to stay free
That's what you told me
That's all in life you ever wanna be
You like to stay free
Such a pretty face
There ought to be somebody there to fill the space
Stay free
Stay free
Stay free
Stay free

Independent
Ha, ha, ha, ha
Independent
Ha, ha, ha, ha

Independent
Ha, ha, ha, ha
Independent
Ha, ha, ha, ha

You must be some special kind of breed
I could tell from the life that you need
If that's to be your destiny
Gotta feel it, you gonna be lo-o-o-o-o-o-onely
You gonna be lo-o-o-o-o-o-onely
If you stay free, stay free, stay free

That's what you told me
That's all in life you ever want to be
If you stay free
Standing in my face you said to me
No one would ever fill the space

Stay free, stay free

Independent
Ha, ha, ha, ha
Independent
Ha, ha, ha, ha

Independent
Ha, ha, ha, ha
Independent
Ha, ha, ha, ha

You like to stay free
That's what you told me
You like to stay free, (free, free)
Don't want
Don't want nobody
You like to stay free

~Lyrics by Nicholas Ashford