Has Anyone But
Me
Noticed That In Less Than a Month's Time, Several Icons Have Taken Their Final Bow?
Maybe I'm living too long on this planet, although I seriously doubt it. Maybe all we baby-boomers are just beginning to realize our own mortality. Maybe. Maybe not. All I know is that during the month of April alone so many of the faces, personalities, talents and teachers who I came to know in childhood and who would remain so alive inside my conscience have suddenly vacated this building we call Life.
Although it's never been my intent to turn my blog into an obituary column, there are some things, some people and some exits that I can not simply ignore. Such is the power, the presence, the influence and effect these figures have played in my life, and often times, in many of our lives.
First there was Gil Noble, who passed at age 80.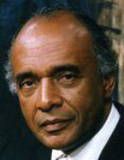 Chances are, if you're not from the NYC area, or haven't lived here in the last 40 years, you may have never heard of him. Should that be the case, I'll feel sad for you, because Gil Noble was The Truth.
More than just a journalist, Gil Noble embodied a one man master class in Black History and thus, in a Larger Sense, American History. He was all those things we'd ever want a teacher to be: Inspired and inspiring. Articulate and attractive. Sturdy and serious. He possessed a sharp wit, and a spirit full of gravitas. Whether the subject of the day dealt with the metaphysics of Jazz or with Negro-leagues in baseball, basketball or sports history in general, Gil would lay it all down in a way we could understand and empathize. He brought you to the forefront. No need to imagine, because Gil Noble had a way of taking you there. No matter if his show was based upon community-related issues or political races, educational matters or vital lessons our schools and classrooms never taught us, he was known to truly tell it LIKE IT IS. And he enlightened us just as much as he instructed us.
It's too bad that his program was only shown throughout the tri-state (New York, New Jersey and Connecticut) area, because
if
it had been nationally syndicated, his reach would have been at least as extensive, and his effect just as seismic as that of Mike Wallace. Gil's iconic show, "Like It Is," would appear every Sunday at noon to feed us knowledge, give us a sense of strength, pride and purpose, or to simply remind us that, no matter our personal struggles, we were not alone. "Like It Is" premiered at a time of cultural awakening. Its debut, back in 1968, coincided with the height of the Black Awareness/Black Power movement. Its marathon run ended just last year, after Mr. Noble suffered a debilitating stroke. That's well over 40 years of journalistic excellence! This is a television landmark equally and every bit impressive as
60 Minutes
or
Meet The Press
. Gil Noble was a maverick. His exposés on slavery in the American south, African relief efforts, and drug addiction in the inner city were disturbing and yet necessary viewing. His documentaries on the lives of Dr. Martin Luther King, Malcolm X and Nelson Mandela are now legendary. His extensive interviews with Adam Clayton Powell, Fannie Lou Hamer, Sarah Vaughn, Sammy Davis, Jr. and Lena Horne are all now classics. The archives from those years are many and so rich with essential historical content that Mr. Noble wanted them maintained and made available for future generations. Having been a student of his, I truly hope his final wish is granted.
Thank you, Gil Noble, for having the courage and the conviction to tell
our
stories. Thank you for shedding a light upon so many of our unsung heroes. Thank you for the years of lessons and for the grace and wisdom in which you presented them. And most of all:
THANK YOU FOR LOVING US SO MUCH!
Peace out, Gil Noble. Because of you, my sense of history is a bit sharper and my nature has been all the more inquisitive.
* * * * *
And speaking of sharp and inquisitive, this month, the world of journalism also lost Mike Wallace…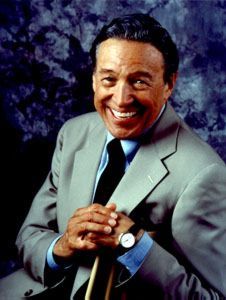 This cat was Epic. He too was one of those stoic figures that seemed to always be around, and he almost made us believe that he would always be, regardless of that grand equalizer called Time.
His career was as varied and long as it was long-ranging and prolific, and through the decades his reputation would become harder and more dogmatic. 60 Minutes gave us the essential Mike Wallace. He was or could be a bit of a journalistic bully. He was tough, tenacious, and, if you were guilty or hiding something from him, even terrifying in his approach. But you knew one thing for certain: Mike Wallace was going to get to the truth of the story, or unmask a liar, or tear down some high-minded celeb in his own inimitable Perry Mason-style of interviewing. He was blunt, and at times he was merciless. He could embarrass, belittle or bedazzle. The man was a beast at probing, investigating, biting down and not ceasing until he drew blood or something tangible that resembled the truth.
He lived a long life, and passed at 93. He was definitely one of a kind. He didn't suffer fools gladly. People like him, who command our attention, always leave behind such lasting impressions.
* * * * * *
Leaving a lasting impression… that's something any self-respecting vampire might do, right?
Well, we can no longer ask that question of Jonathan Frid…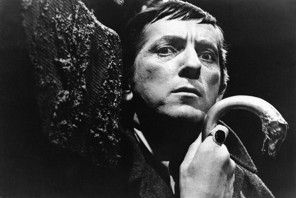 Okay. I admit it. I was a huge fan of this supernatural stuff. From the moment I first tuned in, "Dark Shadows" had me hooked. Each week day, I'd dash home from school like a li'l madman just to watch this gothic phenom unfold. There was nothing else on TV quite like it. It featured ghosts and vampires, witches, warlocks and werewolves. Oh my! It was… or could be very, verrrrry, vurrrrrr scurry. When you're too young to recognize tongue-in-cheek references or too naïve to spot grand camp when it's played out before your eyes, you can just sit back and let this ghoulish world enchant and enrapture you in its utter wickedness. Jonathan Frid projected a kind of edgy hypnotic presence full of grace and subtle danger. As the vampire, Barnabas Collins, his mesmerizing portrayal could leave you spellbound. He was dramatic, menancing, at times sympathetic, and yet just creepy enough to keep you fascinated and have you anxiously tuning in for the next day's feast of blood, drama and mayhem.
Jonathan Frid was immortal. Or so his character would lead us to believe. No one had ever successfully driven a stake through the heart of Barnabas Collins, and so he was doomed to live forever. Ironically, the actor who played him died, on Friday the 13th, at the age of 87.
Johnny Depp who takes over the role of Barnabas Collins…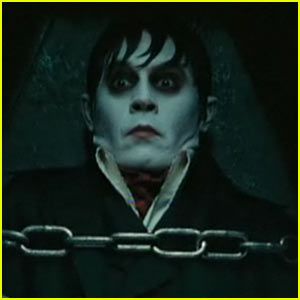 … in Tim Burton's upcoming film based on the Dark Shadows series said it best:
"Jonathan Frid was the reason I used to run home from school to watch 'Dark Shadows,'" Depp said in a statement. "When I had the honor to finally meet him, as he so generously passed the torch of Barnabas to me, he was as elegant and magical as I had always imagined.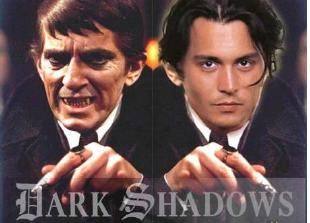 My deepest condolences to his family and friends. The world has lost a true original."
Peace-out BC! Maybe we'll see you again… in the less-creepy after-life.
* * * * *
Finally, there's Dick Clark…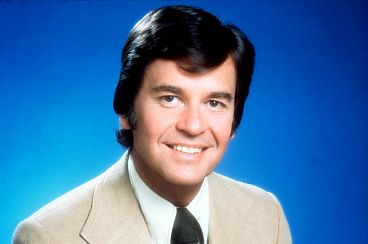 I can't honestly remember a time when I didn't know of Dick Clark's existence. Can
you?
He was the man, the dude, the grand poobah of the popular music scene. Some referred to him as "The World's Oldest Teenager" but he was more like America's Number One DJ. He was there all throughout our kidhood, teen years, young adulthood and beyond. We all knew him. American Bandstand bridged both the generational gap, and, more importantly, it help to smooth the lines of this country's racial divide. Dick Clark knew instinctively that music was something that united us and he showed us that we'd more in common than the sum of our differences. On Saturdays afternoons, whether black, white, brown, yellow or red, we invited him into our homes. Along with his eternally young exterior, he brought new music into our living-rooms, playrooms and bedrooms. He came equipped w/ a stack of albums under his arms. And he was never short on variety: whether it was rock and roll, r& b, soul, folk, pop, disco, new wave, punk, and dance music. He introduced us to so many future icons and legends that along the way he became one himself.
If this had been his only claim to fame, that alone would have been enough. But he also entertained by bringing in game shows "The 10,000 Pyramid" which later became the "$25,000 Pyramid." He made us chuckle with Bloopers and Practical Jokes. He gave us another forum in which to reward and celebrate our musical icons with the American Music Awards… and then he would help us all to bring in the dawning of another year with Dick Clark New Year's Rockin' Eve."
Now he's gone. And New Year's Eve in Times Square will never be quite the same.
He lived to be 82 years old. I think he did the most with his time here. He was very successful, wealthy, well-liked, and yes, iconic. We'll not see his like again.
And so, we bid goodbye to these men; figures, prototypes, icons who stood tall and loomed large through the passage of time… at least so, in my mind.
Each of them, in their own distinctive way, helped to engage us, entertain, define or educate us in ways that ensure they will never be forgotten.
One Love.