"Marilyn Monroe was the sex goddess, Grace Kelly the ice queen, Audrey Hepburn the eternal gamine. Ms. Taylor was beauty incarnate." New York Times-Mel Gussow
Screen Legend Elizabeth Taylor passed today, and I'm not feelin' too good myself. She was 79 years old, and she lived a life of great contrasts in happiness, fame, illness, sadness, triumph. Since early childhood she is remembered for her stunning dark beauty and violet eyes. Although physically blessed with otherworldly glamour, she also managed to seem very fragile and very much human. She went on to win two Oscars, marry 8 husbands, give birth to four children, and become the number one spokesperson for people with AIDS the world over. All in all, Dame Elizabeth Taylor was quite a broad!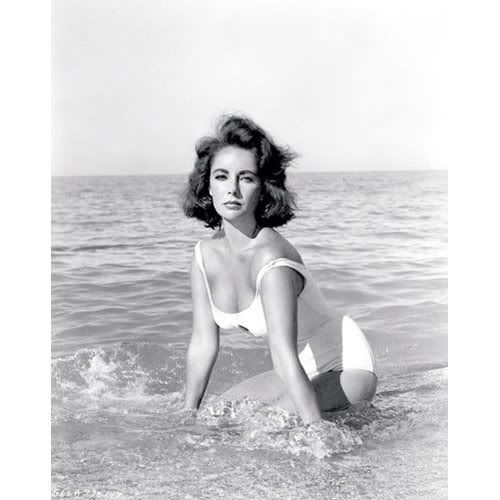 When you happen to be beautiful in your youth, it's a whim, an accident of genetics. When you're truly beautiful in later years it has everything to do with the size of your spirit and the shape of your heart. Actress Elizabeth Taylor may well have been one of the most physically beautiful females ever created, and then... later, in her Third Act of Life, she earned that beauty by the physical and humane acts of BEING Elizabeth Taylor.
I've always admired that quality.
Rest in Peace, "Bessie May!"
One.
LMR